There are very few places in the world where you can enjoy fabulous scenery, gourmet food, unique beach front accommodation, spectacular fishing and ancient rock art – all combined with unparalleled hospitality in a remote wilderness location.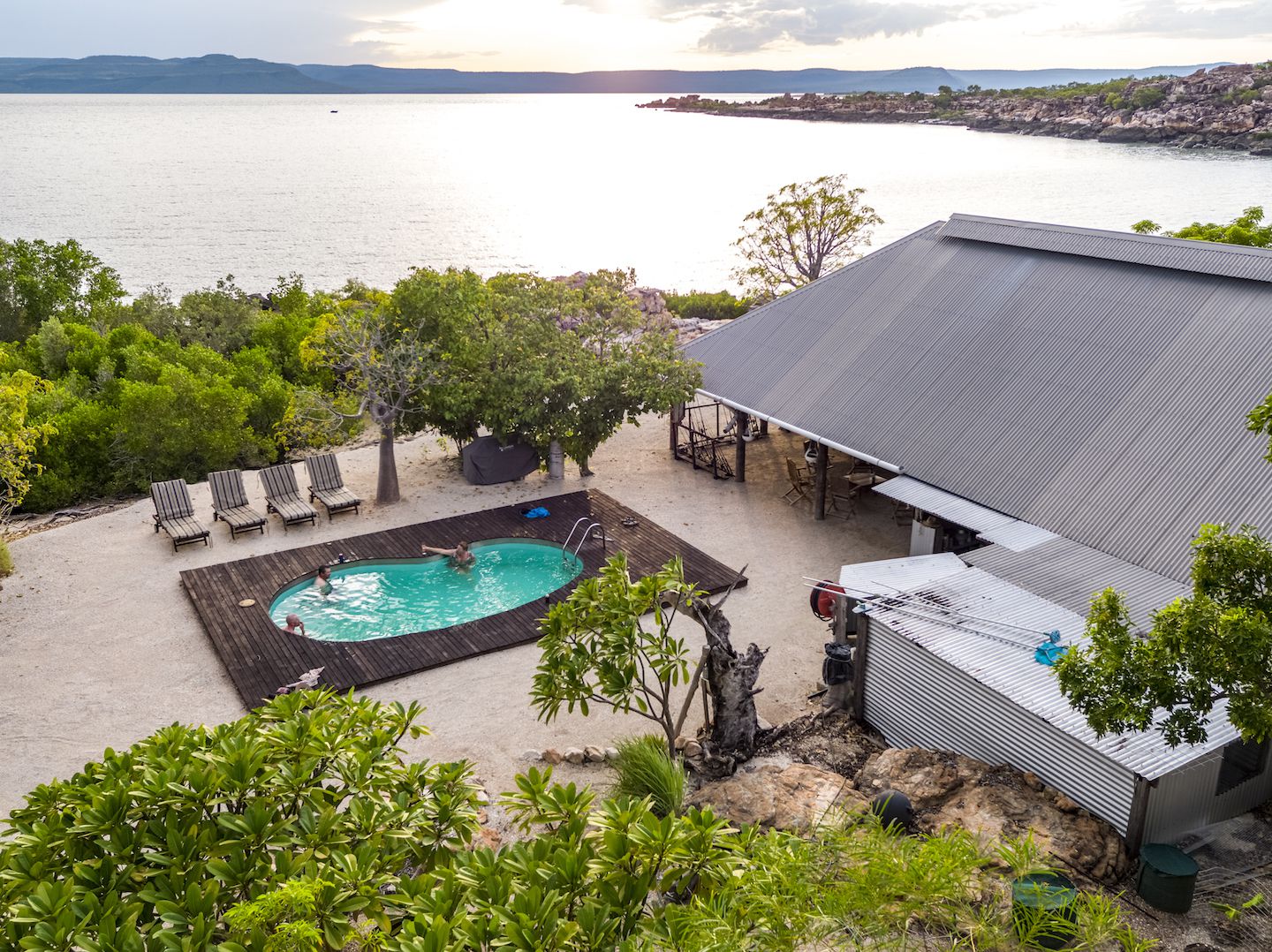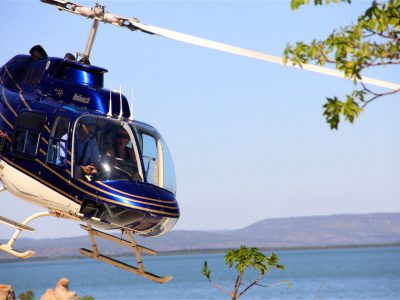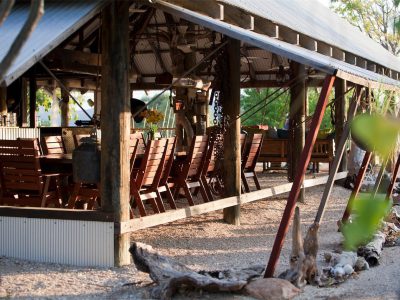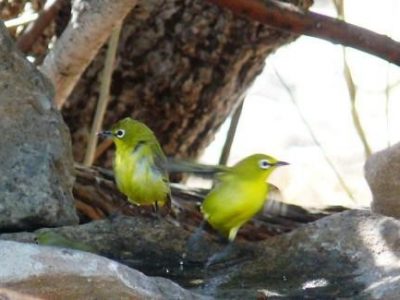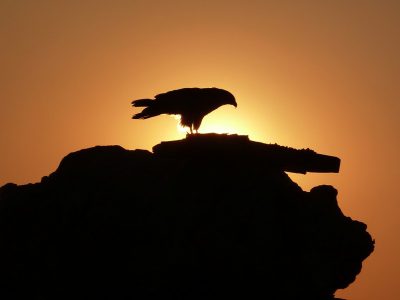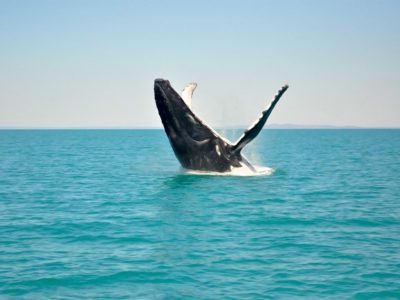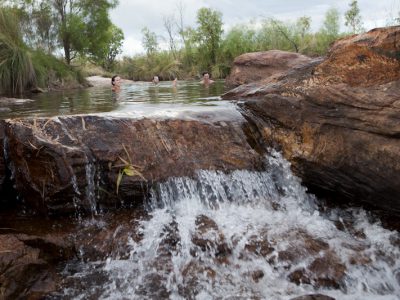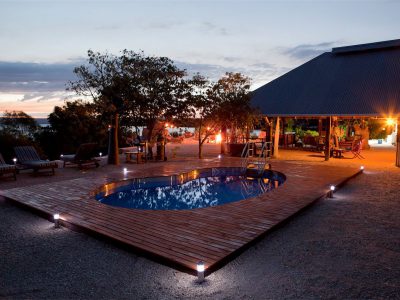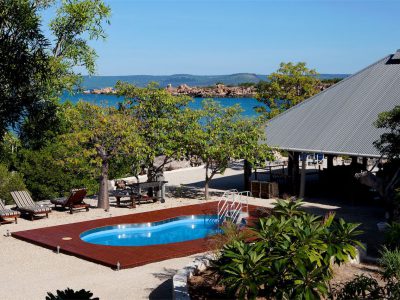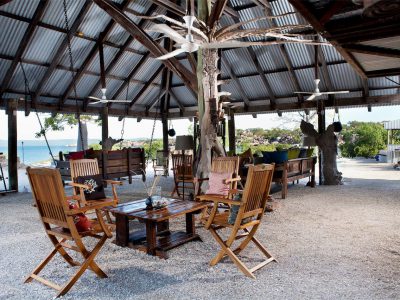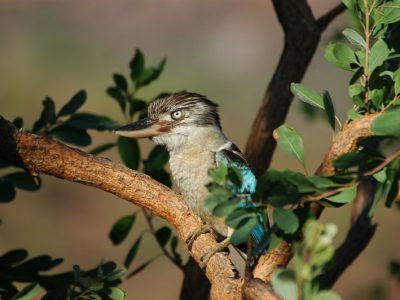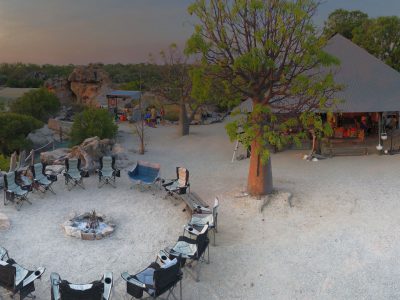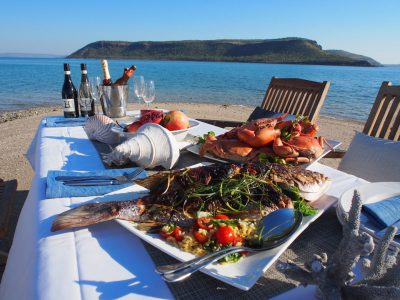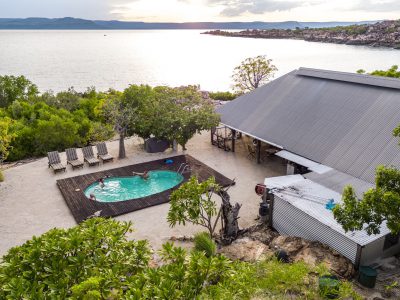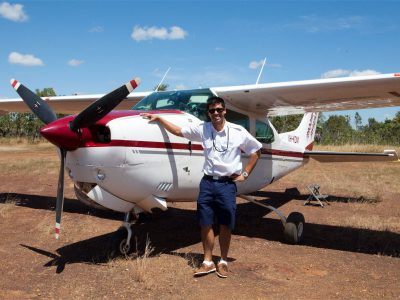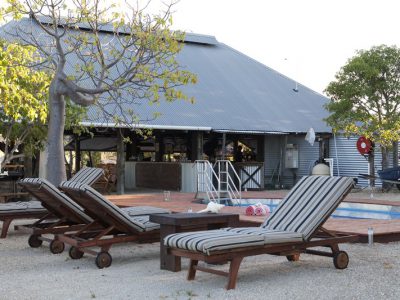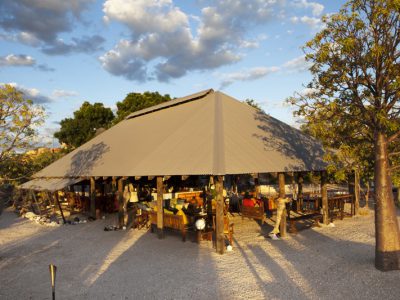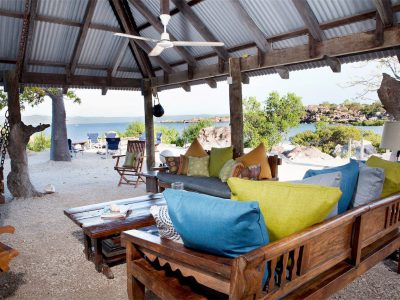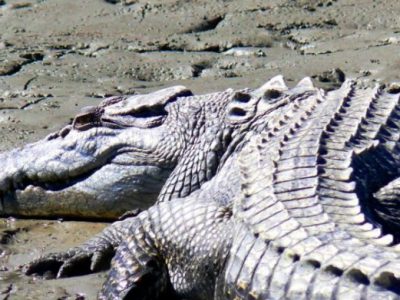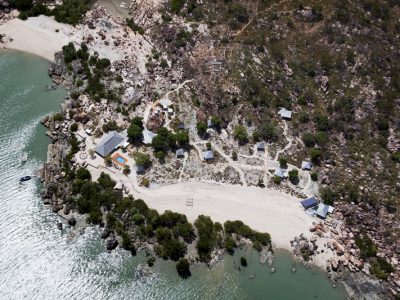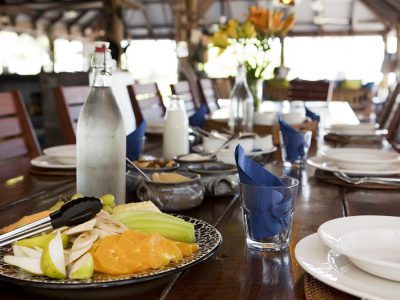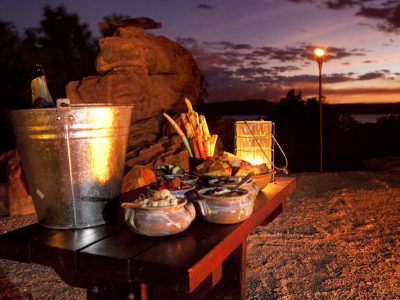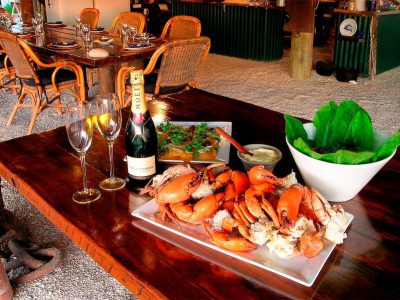 Established in 1994 Kimberley Coastal Camp is nestled on the pristine shores of the Admiralty Gulf in the heart of the great Kimberley wilderness.
Befitting its ideal location, the atmosphere is relaxed and unpretentious. There are no pre-set itineraries here. You set the pace and can be as active or laid back as you like.
Spend your days fishing for the fabled Barramundi and dozens of other tropical species in the pristine azure waters the area is famous for.
Discover intriguing Wandjina and Gwion Gwion (Bradshaw) rock art which has been part of this landscape and the lives of its traditional owners for thousands of years.
You may prefer to take it easy on the boat, cruising and picnicking on deserted islands fringed by boab trees, or sipping a cool drink from the day bed. The choices are yours.
Kimberley Coastal Camp is a place for the heart and soul, limiting guests to just 16, creating an intimate atmosphere while reducing the impact on this fragile environment. When we say we're isolated and pristine – we mean it.
Transfers – How to get there
Kimberley Coastal Camp does not have direct road access. Most of our guests fly in via Light Aircraft and then by chopper from the Mitchell Plateau or via float plane. This flight in itself is often one of our guests' most memorable moments!
The most readily available fixed wing aircraft is a Cessna C210 or a Cessna 206/208 Float Plane (*Float Plane only available from Kununurra)
Jetranger helicopters are most commonly used on the Mitchell Plateau.
Transfers from Kununurra, Broome, Darwin and the Mitchell Plateau are based on 2 or 4 people travelling together. Access by light aircraft/float plane and helicopter is arranged by us.
We also offer a 4WD Safari option, this includes light aircraft to Mitchell Plateau and from here self-drive our 4WD hire car to Walsh Point where we will meet you in our boat to take you to our beach.
If you are driving up to the Mitchell Plateau, packages include helicopter transfers from the Plateau to land on the beach at KCC or pick up from Walsh Point via boat transfer.
Kimberley Coastal Camp is not your average fishing camp. We like to think of ourselves more as a, "barefoot resort" offering something for everyone.
At Kimberley Coastal Camp, we cater your holiday to suit you.  For those who may not necessarily be into fishing all day we offer a range of activities, although we do encourage you to also try your hand at catching your lunch, we don't think you will be disappointed.  A typical day on the water would see you have a couple of hours of easy fishing, (we promise that you won't even have to touch the bait).  After your exciting catch, we will find a glorious deserted island where you will be treated to a delicious glass of wine or bubbles while your fish is expertly filleted and cooked for you to enjoy with gourmet salads.  Have a swim, go beachcombing or just relax in the sun before hopping back on the boat for a cruise back to the camp in time for a swim in the freshwater pool.
At Kimberley Coastal Camp, we also offer relaxing and cooling facials in our Land of Poh room using Biomimetic skin care, cooking classes with our Chef and beautiful guided bush walks.  Or you can just simply have a sleep in and get fed all day by our chef while enjoying a book and a cool drink by the pool.
Accommodation is in our beach front bungalows, all with water views – sleeping 2 people King or Twin Share.
With a limit of just 16 guests we are the ideal place to spend your time fishing, on an expedition to view ancient rock art or simply just relax.
Accommodation in private unique beachfront bungalow. Comfortable, spacious accommodation, has said to be "as close to sleeping under the stars that you could get, even the bathrooms had a view not to be missed!"
Twin share/ 2 people. Family room option available.
All Gourmet meals and snacks prepared fresh daily onsite by our chef (all dietary requirements catered for), all non-alcoholic refreshments.
Professional passionate & knowledgeable guides.
Guided fishing, mud crabbing and oyster gathering (tide permitting).
Custom built boats to accommodate blue water, shallow flats, tidal creeks and secret spots! All boats are in commercial survey & carry the approved safety equipment.
Use of quality fishing tackle & equipment (excludes fly fishing).
Guided Ancient Indigenous Art & Cultural Tour with lunch in a secluded location.
Cooking Experience with Jules! **Cookbook release Oct 2019, pre-order now**
Boat cruises & beachcombing, bird watching and feeding. Localised fishing, shark feeding, abundant wildlife, bush and coastal walks, spectacular views, rest & relaxation.
Localised fishing, shark feeding, abundant wildlife, bush and coastal walks, spectacular views, rest & relaxation.
Freshwater Pool and many great games and good reads from the library.
Laundry service available (daily if required)
LOYALTY RETURNING GUEST PROGRAM – ASK TODAY!
Children 12 & under charged at $850pp/night. 13+ years old are charged at the full rate. Family room available so 1 or 2 children can share with their parents. *Conditions may apply
Access by light aircraft/floatplane and helicopter is arranged by us. This is an additional cost to our nightly rate. Please contact us to find out more.
Additional costs:
Return scenic transfers from Darwin, Kununurra, Broome, Mitchell Plateau, Elquestro, Bungle Bungles or other Kimberley destinations.
Pre-ordered or Premium drinks package available.
Spa treatments
Do You Need More Information?
Fill in the form below and submit. We will contact you within 24 hours to answer all your questions.