10 Night Pearler Kimberley Cruise
Cygnet Bay – Mitchell Plateau / Rtn Kununurra
A real pearler of an itinerary! Highlights include all the big ticket items on the Southern Kimberley coast including the world renown Horizontal Waterfalls, experiencing the enigma that is Montgomery Reef, trying your hand at catching the ellusive Barra in Prince Regent River, nature walks to secret swimming holes and exploring Bigge Island to view incredible ancient rock art. There is so much to do on this itinerary with a day full of activities every day. Scenic seaplane or helicopter flight included over the Mitchell Falls as well as scenic views of the King George Falls, Berkeley River and the Ord River System arriving into Kununurra for either a flight home or extend your holiday with a tour at El Questro, Emma Gorge or Lake Argyle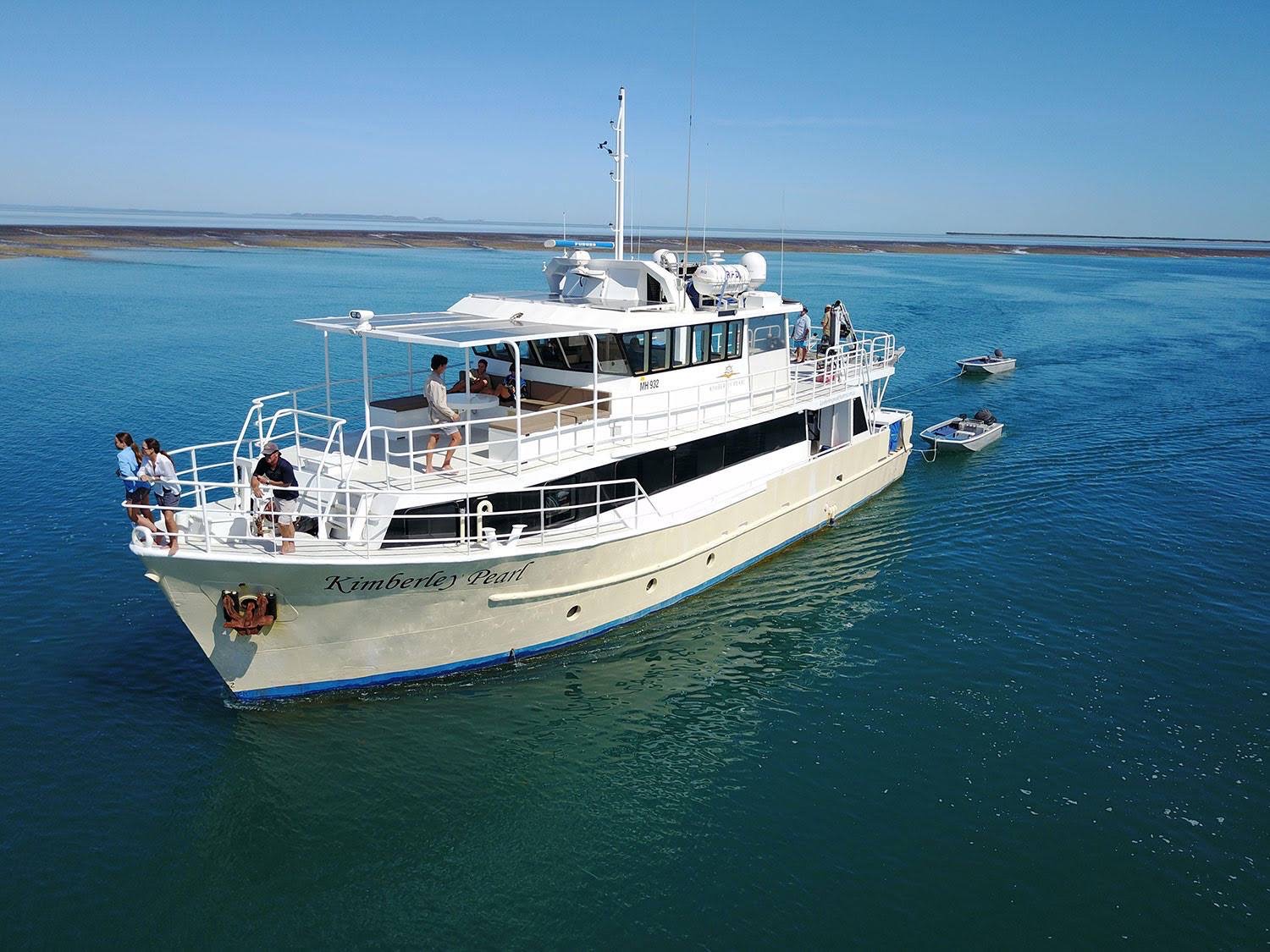 Cruise Highlights | Kimberley Pearl
DAY 2
Crocodile Creek / Waterfall and freshwater pool
DAY 3
Talbot Bay / Horizontal Waterfalls
DAY 4
Doubtful Bay / Montgomery Reef
DAY 5
Camden Harbour / Hanover Bay
DAY 6
Prince Regent River / King Cascade Falls
DAY 7
Careening Bay "Mermaid Tree"
DAY 9
Bigge Island / Winyalkin Island, Exploring, Fishing, Rock Art
DAY 10
Swift Bay / Mitchell River / Surveyors Pool
DOWNLOAD ITINERARY
CLICK TO DOWNLOAD
KIMBERLEY PEARL PRICE & AVAILABILITY
10 NIGHT PEARLER KIMBERLEY CRUISE
10 Night Pearler Kimberley Cruise 2024
Deluxe Queen Ensuite Cabins
Broome/Cygnet Bay to Swift Bay / Rtn Kununurra
Kununurra/Swift Bay  to Cygnet Bay / Rtn Broome
Do You Need More Information?
Fill in the form below and submit. We will contact you within 24 hours to answer all your questions.